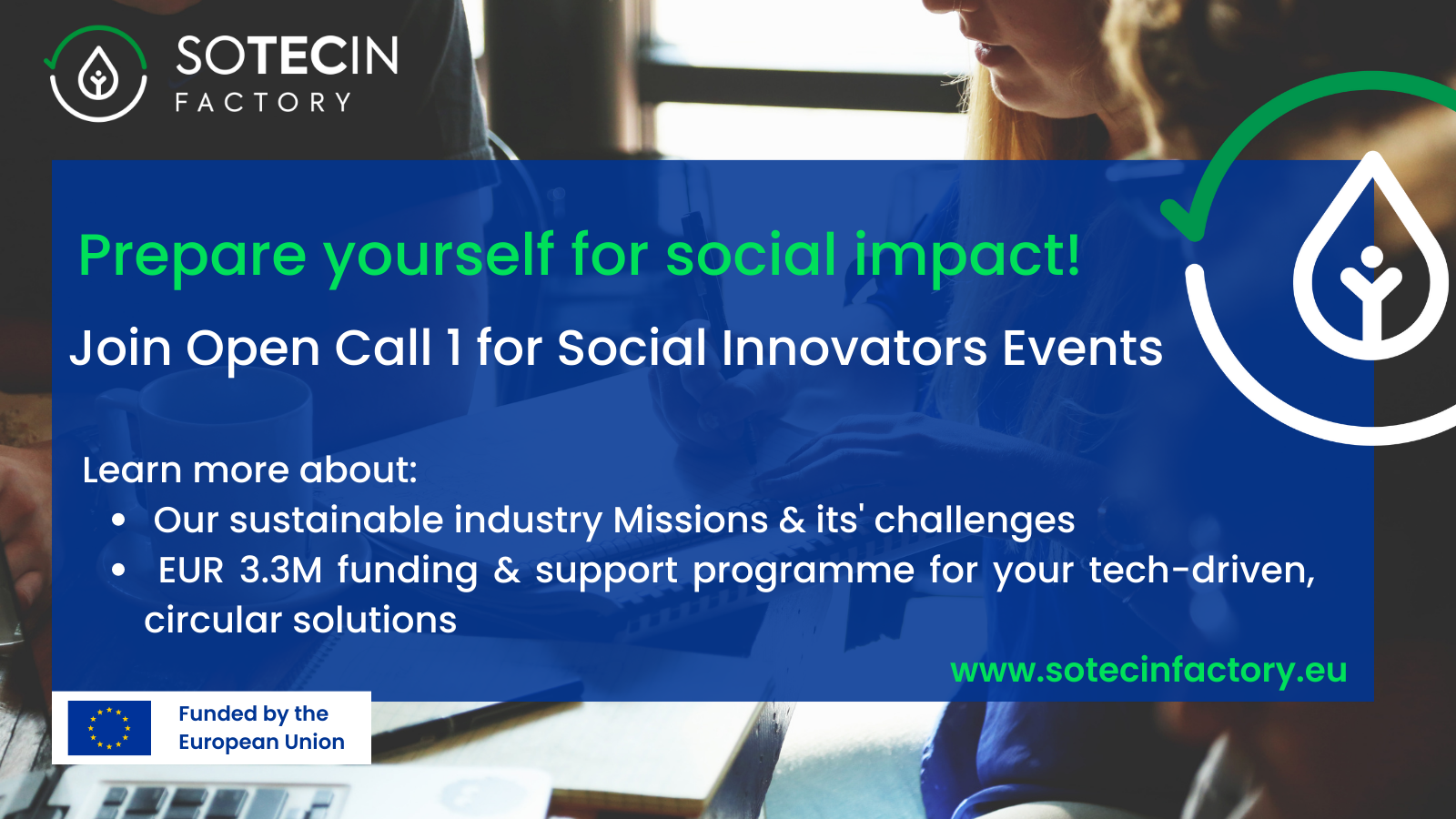 Join SoTecIn Factory Events – Open Call 1 for Social Innovators
Prepare yourself for social impact by registering for Open Call 1 for Social Innovators events, designed to lead you through our projects' circular missions and EUR 3.3M funding & support programme for

sustainable tech-driven solutions from food, water & nutrients, textiles and plastics & packaging industry value chains.
WHAT IS OPEN CALL 1 FOR SOCIAL INNOVATORS?
EU-funded project SoTecIn Factory has launched its first round of Open Calls for Social Innovators and its EUR 3.3M programme supporting mission-driven social innovation ventures in leading industry towards low-carbon and circular economy transition through sustainable solutions utilising higher R circular strategies (ie. Refuse, Rethink, Reduce, Reuse, Repair,  Refurbish and Remanufacture techniques) and social innovation.
The Open Call 1 will award  25 European tech-savvy innovators with up to 15,000 EUR  in Phase 1. From this group, 15 innovators will engage in a pre-market technological demonstration with up to 85,000 EUR of additional funding support in Phase 2.   
 Besides equity-free funding, the beneficiaries will have  access to capacity building and business support through multiple resources and to the consortium's in-depth expertise on circular business models, systemic change, social entrepreneurship, funding strategies and industrial value chains, to name but a few.  
HOW TO APPLY
 Potential Social Innovators can apply via F6S platform until 28 September  2023, 18h CET:  
NEED MORE INFO? 
For more information, such as the Open Call Guide, go to:   
JOIN OPEN CALL 1 MISSION INFO WEBINARS
Register to learn more about our sustainable Missions and how to shape the best social innovation solutions for our Mission-based industrial challenges.
SoTecIn Factory incorporates a mission-oriented open social innovation process  in its quest of sustainable industry transformation.
That means that the programme supports social innovators in resolving burning industry's challenges centred around 7 Missions as general sustainable goals defined in  3 value chains (textiles, food, water & nutrients, plastics & packaging) across 7 economic regions, previously formulated with the help from Regional Hubs (project partner Impact Hub (IH) and its local organisations: IH Amsterdam, IH Lisbon, IH Milano, IH Firenze, IH Munich/previously IH Hamburg, IH Budapest, IH Bucharest, IH Istanbul) alongside communities of both private and public industry players in a series of online meetings.
By submitting the application form and corresponding proposal, individuals and organisations, as civil society members, could offer their innovative, sustainable and tech-driven solutions as an answer to:  
circular challenges aligned with 

the project Missions

 .

 

or real-life industry challenges ( either from Challenge Owners, as one of the previously selected  21 cases coming from private & public industry members  or brought by the social innovator and its' challenge proponent based on the said Missions).
NOTE: Regardless of your geographical affiliation, any regional Mission and its' challenges in your chosen industry value chain are open for your solution.
JOIN OPEN CALL 1 INFO SESSIONS
These online events, addressed to tech-savvy innovators interested in applying to the programme, will provide detailed information about the call and will be useful to solve questions and help you to submit a better proposal.
 GET IN TOUCH WITH US AND OUR COMMUNITY 
Get the dates: Register for the Open Call 1 for Social Innovators Events