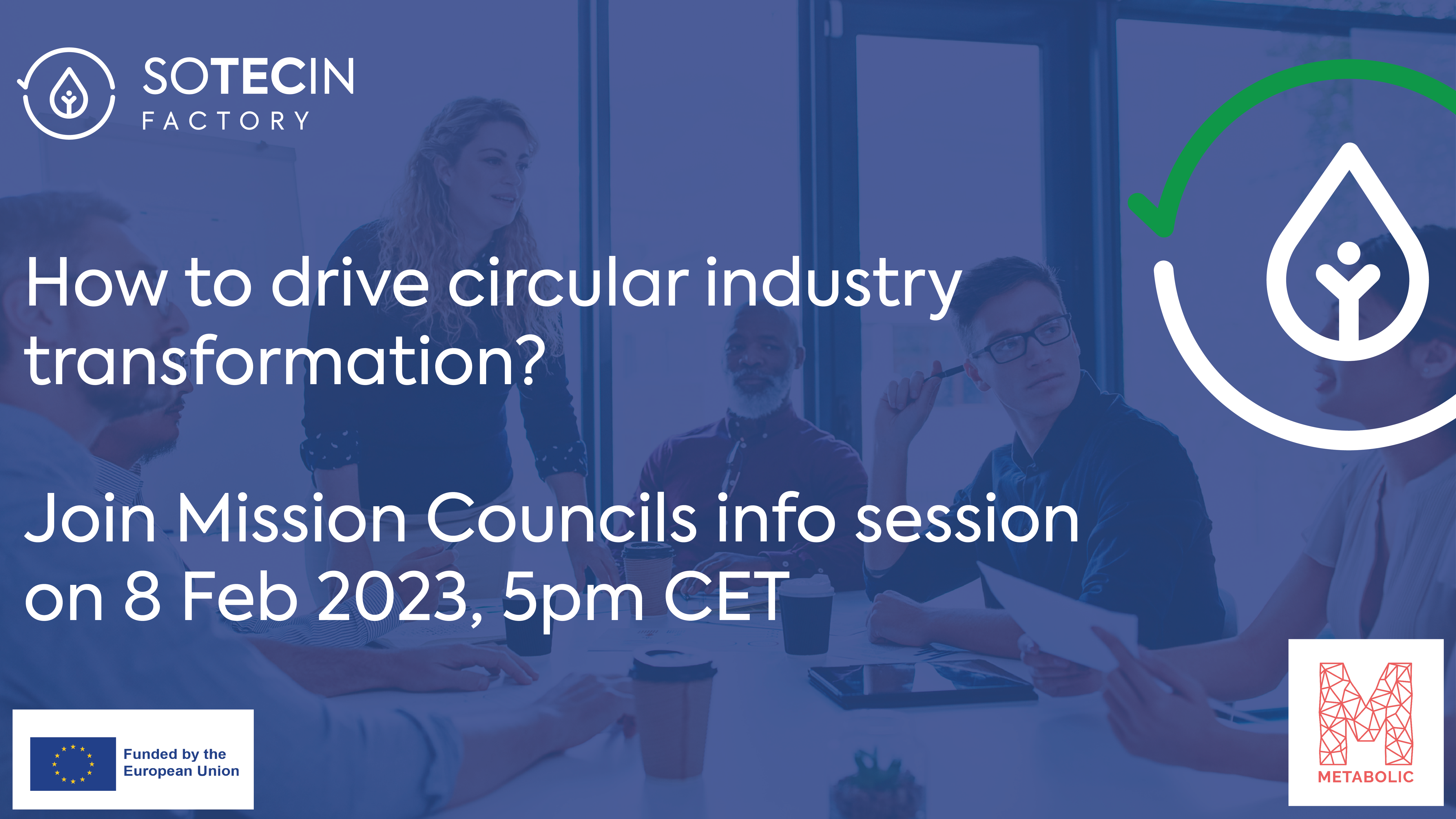 How to Drive Circular Industry Transformation? Join Mission Councils Info session
Are you interested to help drive the circular transformation of industrial value chains across Europe? If so, we are pleased to announce that you will be able to learn more Mission Councils during an information session organised on the 8th of February at 5 pm CET.
We are currently looking for motivated individuals to join a Mission Council, an impartial, multi-stakeholder group of experts that will play a critical role in driving the impact of the 
SoTecIn Factory
, an EU funded 
program
 focused on improving the circularity of 4 core product value chains in 7 European regions.
The project aims to support the incubation of 50 high-impact, technology-driven start-ups over the next two years while piloting new approaches to open innovation, governance models, and venture building.Among the core responsibilities of the Mission Council will be supporting the selection of high-impact ventures to enter the program, overseeing the development and deployment of their solutions, and preventing any potential mission drift throughout the program. Activities might include participation in quarterly meetings, ad-hoc input provision, engaging with ventures, or revision of project outputs.We are forming 7 regional Mission Councils, each focused on it's own regional circular economy challenges, linked to the following value chains:
Food, water, nutrients (Portugal, Spain, France, Turkey, Armenia, Georgia, Hungary, Slovakia, Poland, Estonia, Lithuania, Latvia, Romania, Greence Bulgaria, Cyprus
Textiles (Netherlands, Northern France, Belgium, Luxembourg, Ireland, Italy, Slovenia, Croatia, Malta)
Packaging and Plastics (Germany, Denmark, Austria, Sweden, Finland)
While the role of a Mission Council member is core to ensuring the systemic impact objectives of the SoTecIn Factory, the role itself is rather light touch and will require ∼1h/ month over the next 2 years.
If this sounds interesting to you, please apply before the 15th of February.
Apply for Mission Councils until 15 Feb 2023
Join the information session via Zoom Link