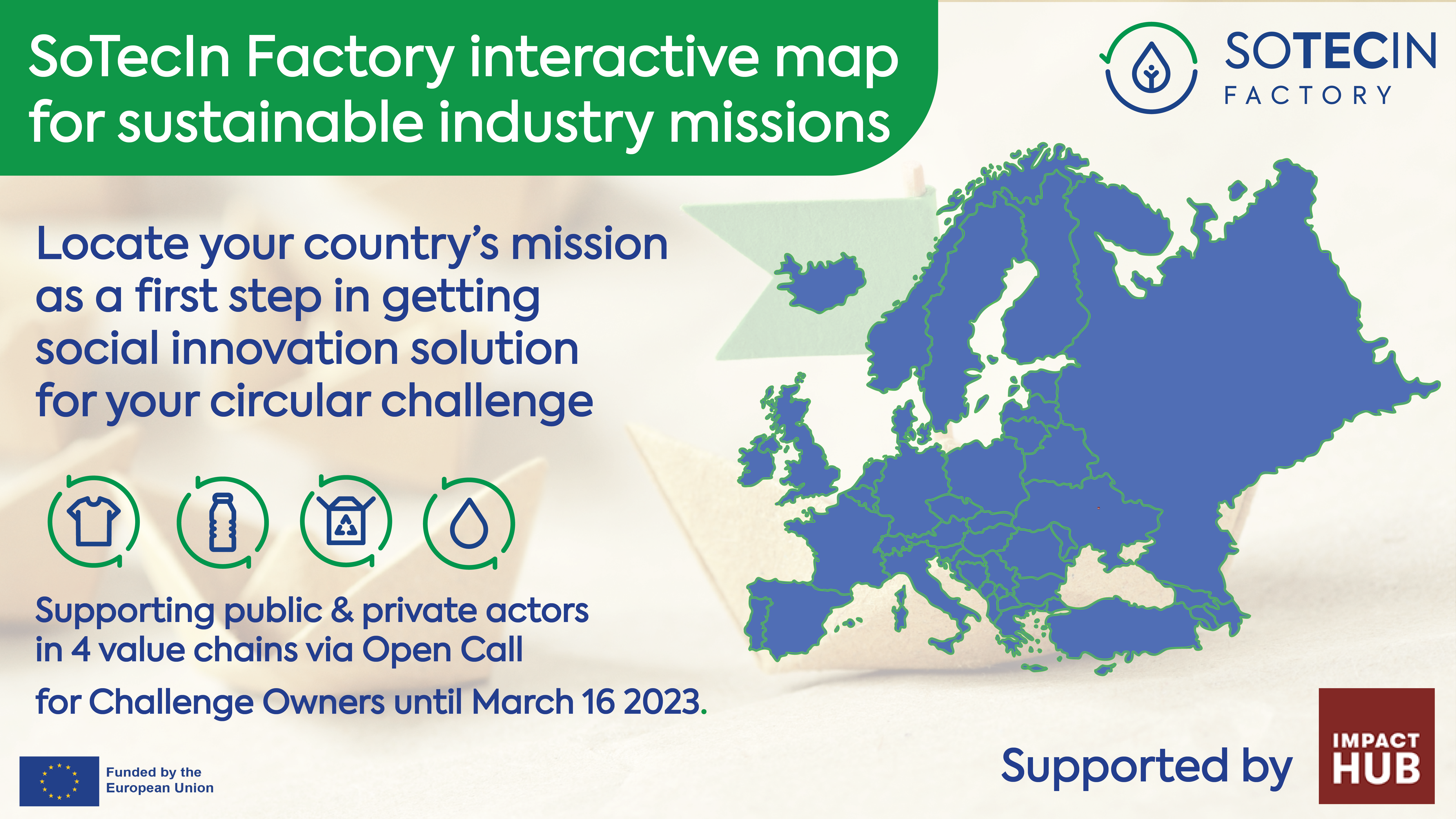 Sustainable Industry aboard!Check SoTecIn Factory Interactive Mission Map
What is that smoke over there? Oh, it's SoTecIn Factory Missions transforming the industry towards circular economy and social innovation! Learn more about how you can receive the support in your country and value chain to solve your challenge of becoming low-carbon and sustainable.
The Context
In the past few months, SoTecIn Factory and its 7 Regional Communities have focused on formulating Missions  capturing the general circular industry challenges which SoTecIn Factory will strive to solve via social innovation-based tech solutions.
Through a set of workshops, SoTecIn Factory Regional Hubs (lead by project partner Impact Hub (IH) and its local organisations (IH Amsterdam, IH Lisbon, IH Milan IH Bucharest, IH Budapest, IH Hamburg, and IH Istanbul)) have supported  a diverse range of industry, academia, NGOs and public sector members in designing and stewarding shared key value chain-based missions in a bottom-up manner. The Communities successfully formulated the missions in textiles, plastics and packaging and food, water & nutrients value chain across 7 economic regions, covering 31 countries in total.
From Mission-based Challenge to Social Innovation Solution – How can SoTecIn Factory help you
If you are an industry actor (public, private or non-profit incorporated organisation) facing the sustainable challenge, but you don't know how to find a suitable tech-based solution, fret no more, because SoTecIn Factory is leading you in that process  helping you identify a mission-based Challenge via Open Call for Challenge Owners and receive a  tailored tech solution via two SoTecIn Factory Open Calls for social innovators in 2023 and 2024.
To help faciltate the application process for you, utilise our interactive Missions map in the following manner:
Check if your country is part of the targeted regions (follow the blinking white dots)
Each country is part of a specific region and value chain. If you happen to fall into such group, proceed to the Mission Statement by clicking on the link
Read the Mission thouroughly (see the example from the Region of North-West covering textiles value chain in Netherlands, Northern France, Belgium, Luxembourg, Ireland):
"Leverage digitisation and data by connecting actors in the textile value chain in the EU to empower decision-making towards a higher R circular economy by increasing transparency and traceability."
4. Ask yourself: Am I facing a similar challenge (e.g., is solving the issue of sustainable transparency and traceability towards my clients/customers via data and tech-based circular solution on my to-do list?).
5. If your goals are aligned with the Mission, proceed to apply for  the Open Call for Challenge Owners until 23 March 2023 via F6S platform.
Learn More about the Open Call for Challenge Owners