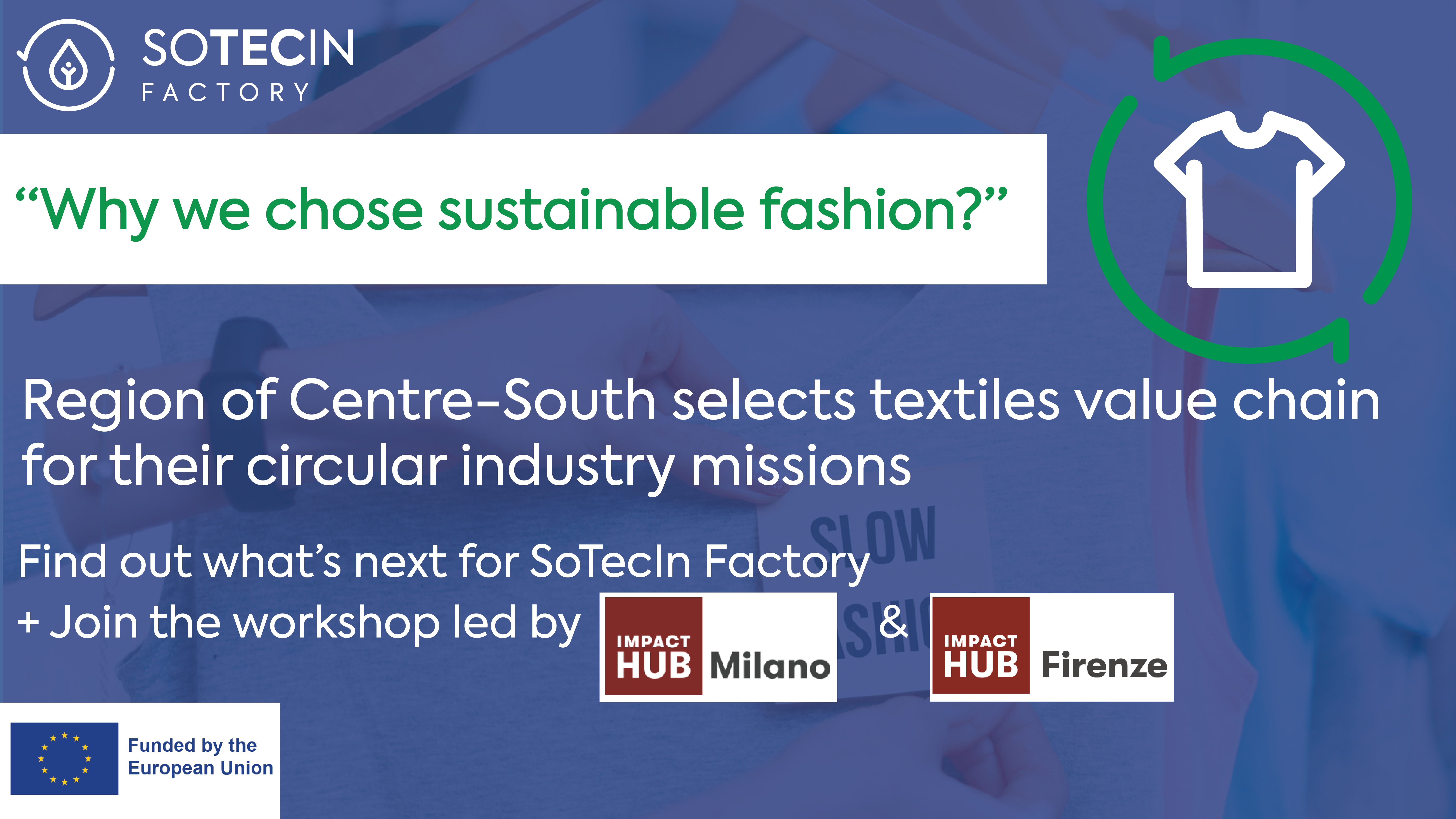 Regional Hub of Centre-South selects textile key value chain for their circular industry mission
Led by Impact Hub Milano and Impact Hub Florence, the SoTecIn Factory Regional Hub of Centre-South (Italy, including Slovenia, Croatia, Malta) has selected the textiles key value chain as the basis of future SoTecIn Factory circularity missions to enable it's radical and systemic change through technological and social innovations.
This regional selection comes as no surprise since the fashion industry is considered one of the most polluting in the world. In particular, "fast fashion" generates about 20 million tons of waste each year and is responsible for more than 10 percent of greenhouse gas (McKinsey & Company, The State of Fashion 2021.)
Regarding the economic region of European Centre-North, Italy, is the European country with the highest recycling rate on total waste (79.4 %), almost double the EU average (49 %) (100 Italian Circular Economy Stories ,2021.)
In fact, great examples of successful Italian recycling practice can be seen within the textile sector where, Italy has implemented three years in advance the new Waste EU Directive a necessary measure taken to reduce textile waste and improve arrangements for recycling it (Ispra: Superior Institute for Environmental Protection and Research in Italy)
However, this is only a first step towards reducing textile waste. Some challenges still need to be resolved to see concrete positive impact and therefore companies should adopt more innovative technologies to solve problems.
This is where IH Milano and IH Florence enter the initiative, given that Impact Hub srl SB has partnered with more than 250 high-impact start-ups which are taking a variety of approaches to innovating inside of the textile industry for a more social and sustainable future. IH Milano team has focused over the years on circular economy business models and developed a network of professionals who support startups facing the challenges of the circular economy.
What's next?
As previously mentioned, SoTecIn Factory aims to support its community of diverse stakeholders from European industry, NGOs, academia and public sector in formulating at least 7 key value chain-based missions (at least one mission per each region and its selected value chain).
But what are these Missions exactly?
They are essentially broad but bounded aspirational objective(s) that capture the general circular challenge(s) in the domain of selected value chain(s), which the industry strives to solve with the use of social innovation-based tech solutions.
Once formulated, the missions will serve as the basis of the Open Call for Challenge Owners designed to help industry leaders in identifying and providing specific ,mission-based sustainability challenges relevant for their organisation which social entrepreneurs will strive to solve via two SoTecIn Factory Open Calls for social innovators in 2023 and 2024.
How can I join the action?
So, what could this mission be in the context of textiles in the region of Centre-South? During the regional value chain assessment, the Regional Hub has noticed some challenges and trends that could potentially arise, such as:
Improved traceability of the textiles used in products through blockchain, RFID and artificial Intelligence & IoT technologies.
Circular Upcycling of fashion garments based on recycling technologies, automatic sorting machines, online platform for waste management, product passport and 3D printing.
The final answer, however comes within the industry itself while SoTecIn Factory helps in bringing it to the surface by supporting its Community divided into 7 regional fractions (Regional Communities) , led by local Impact Hubs, in voicing circular needs and goals of its members per respective regional value chain.
To help you learn more about SoTecIn Factory, as well as on how to join the Regional Community of Centre-South, the Regional Hub will organise a workshop so stay tuned on more info about workshop registration!
Are you interested in learning more? Subscribe to our newsletter to read more about sustainable industry and SoTecIn Factory project!