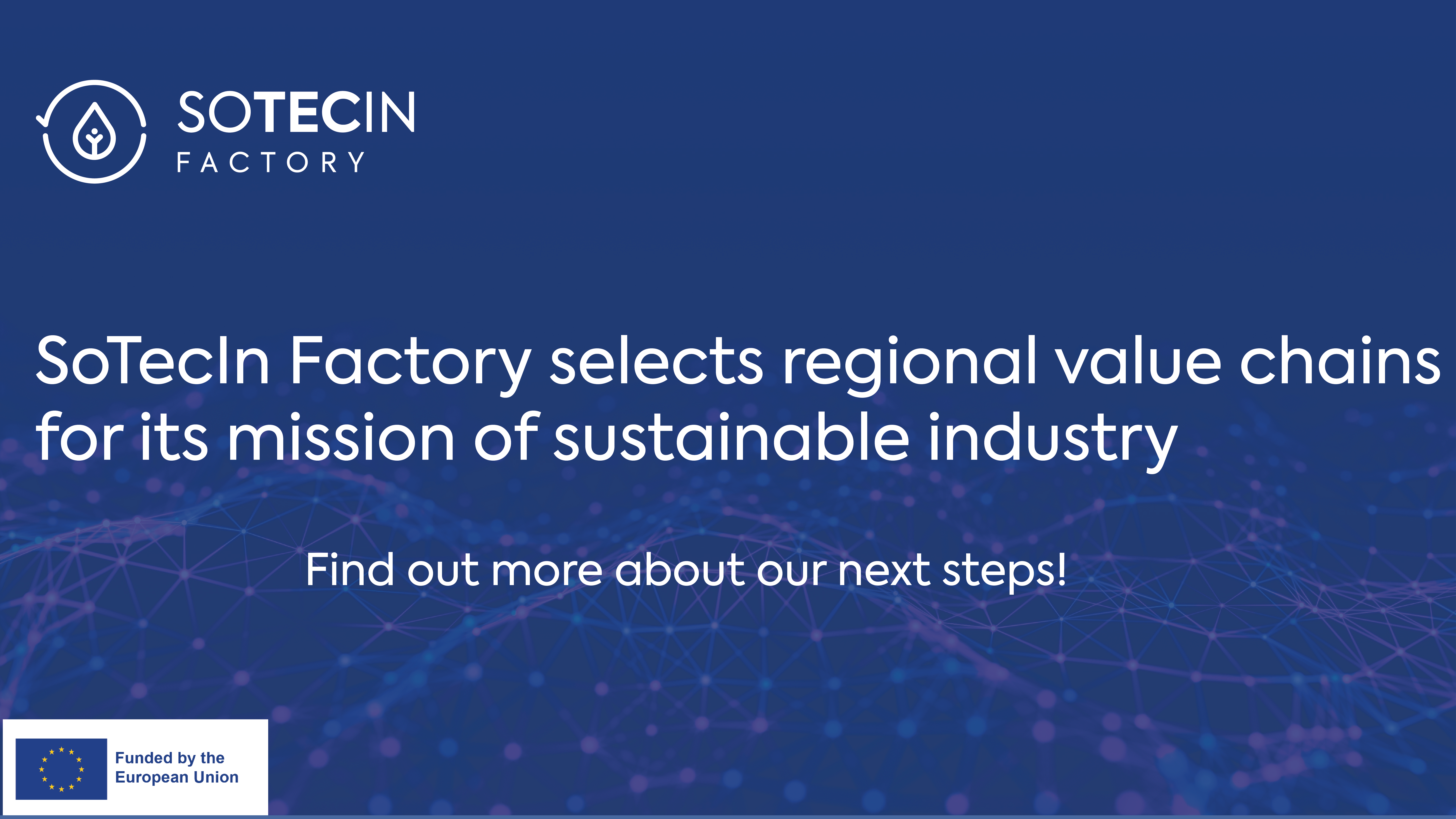 SoTecIn Factory selects regional value chains for its mission of sustainable industry
Social and Technological Innovation Factory for Low-Carbon and Circular Industrial Value Chains – SoTecIn Factory is a project funded by the European Commission's Horizon Europe programme. The consortium led by INESC TEC, and composed by 5 other European partners (F6S, BWCON, Impact Hub HUB, Metabolic Ventures and CNR), teamed up to achieve their common mission for a more sustainable and resilient industry by connecting it to mission-based social innovators. Moreover, the project offers a 3.3 million EUR equity-free fund and capacity-building support to social innovations that improve the circularity of key product value chains by implementing higher value "Rs", i.e., Refuse, Rethink, Reduce, Reuse, Repair, Refurbish, Remanufacture.
To achieve its goals, the project engages diverse industry actors to be the key players in restructuring value chains towards decarbonisation and circularity, as members of its' transnational SoTecIn Factory Community, both in the virtual format of the Online Community, as well as through 7 Regional Communities.
 Led by 7 Regional Hubs, which are hosted by the project partner Impact Hub (IH) and its local organisations (IH Amsterdam, IH Lisbon, IH Milan IH Bucharest, IH Budapest, IH Hamburg, and IH Istanbul), the Community participated in conducting an assessment to define and select which ones of the 7 key product value chains of the EU Circular Economy Action Plan are more relevant to their specific region. As a result, the following key product value chains were selected for each one of the 7 economic regions, as listed:
1. Netherlands (North-West, including Northern France, Belgium, Luxembourg, Ireland)
– Textiles  
2. Portugal (South-West, including Spain, Southern France)
– Food, Water and Nutrients
3. Italy (Centre-South, including Slovenia, Croatia, Malta)
– Textiles
4. Romania (South-East, including Greece, Bulgaria, Cyprus, Serbia, Ukraine)
– Food, Water and Nutrients
5. Hungary (North-East, including Slovakia, Poland, Estonia, Lithuania, Latvia)
– Food, Water and Nutrients
6. Germany (Centre-North, including Denmark, Austria, Sweden, Finland)
– Plastics and Packaging
7. Turkey (East, including Armenia and Georgia)
– Food, Water and Nutrients
The next step for SoTecIn Factory and its Regional Hubs is to support 7 Regional Communities in formulating at least 7 key value chain-based missions (at least one mission per each region and its selected value chain), as listed above.
Once formulated, the missions will serve as the basis of the Open Call for Challenge Owners designed to help industry leaders to identify and subsequently provide mission-based sustainability challenges relevant for their organisation.  50 tech-savvy researchers, SMEs and startups will then be able to offer their innovative circular solutions for selected real-life challenges via two SoTecIn Factory Open Calls for social innovators in 2023 and 2024.  For their ideas, social innovators will be provided with 15k EUR and capacity-building support, 30 selected ventures from the initial group will engage in a pre-market technological demonstration with additional 85k EUR funding support.
 Besides the membership in Regional Communities, active Community members will be able to join regional Mission Councils, multi-stakeholder groups of selected experts, focused on safeguarding the goal of the SoTecIn Factory to contribute to a systemic transformation of selected regional value chains into circularity, and safeguarding EU's funding toward systemic innovation through venture building. Mission Councils will act as 'guardians' of this broader mission, by overseeing the progression of the challenges by the challenge owners and solution providers – specifically, overseeing the development of the higher-R focused, early-stage enterprises, deployment of their solutions, and ensuring that the ventures stay focused on the overarching mission throughout the duration of the program.
What's next?
During a 36 months timespan, SoTecIn Factory will re-connect its Community members from the European industry, public sector and academia through several pan-European networking mashups and workshops.  In fact, in the upcoming period, Regional Hubs will host 7 regional workshops to present the project and invite the participants to actively join the mission of sustainability.
Stay tuned for more info on the workshop dates and registration.