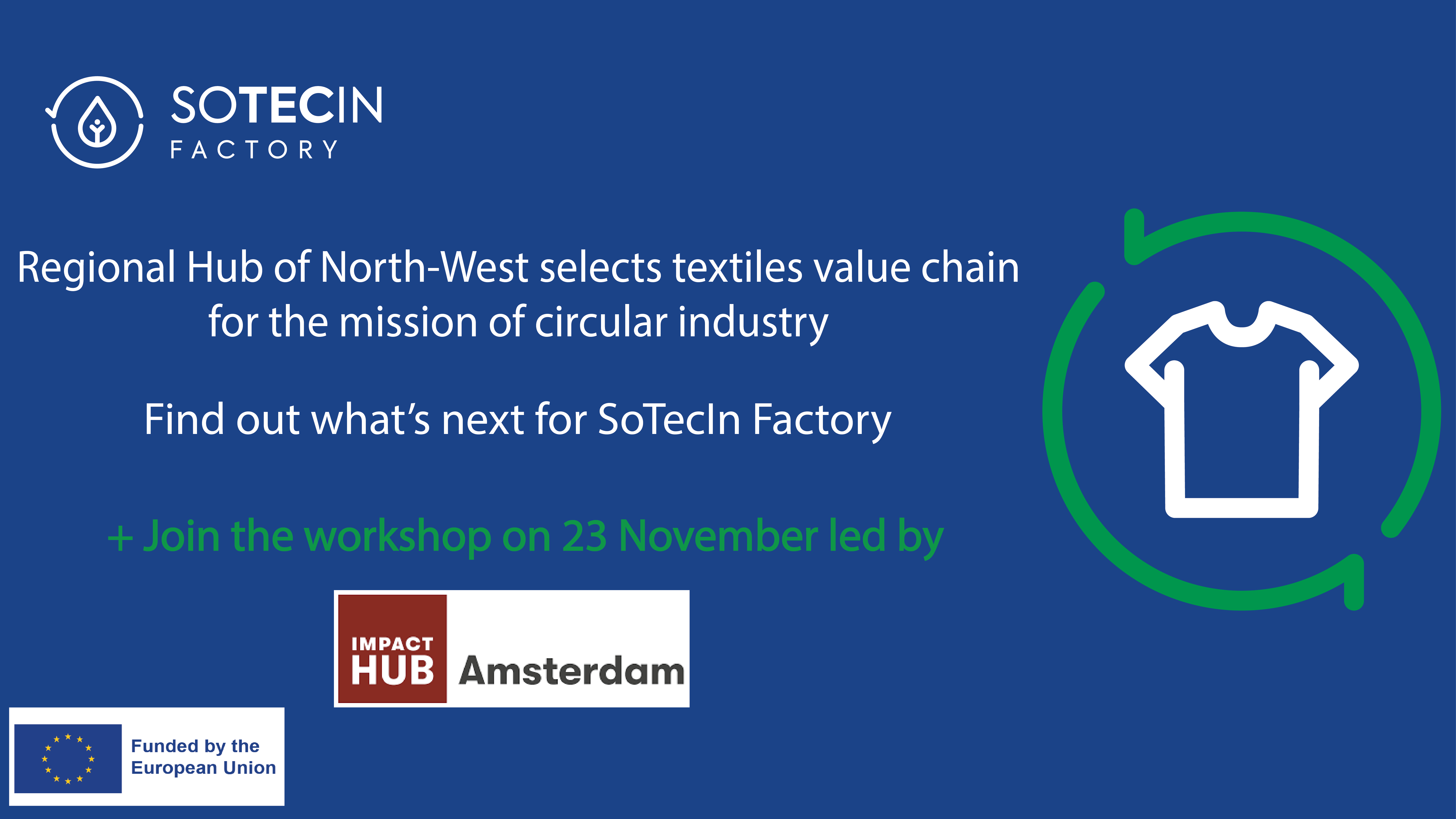 Regional Hub of North-West selects textiles value chain for the mission of circular industry transformation
From now on, European's North-West regional fashion will sustainably be on point!
Led by Impact Hub Amsterdam, the SoTecIn Factory Regional Hub of North-West (Netherlands, including Northern France, Belgium, Luxembourg, Ireland) has selected the textiles key value chain as the basis of future SoTecIn Factory circularity missions to enable it's radical and systemic change through technological and social innovations.
The result of the selection mirrors the regional needs which have already been noticed. The larger Metropolitan Region of Amsterdam (MRA), in particular, has stated that they aim for a 50% circular textile industry by 2030. The role of technology in radical innovation is also evident, as well as the need to link it to social needs. Last year Amsterdam was named the most valuable tech city in the world due to the large number of investments raised. Investments in technological solutions for the textiles value chain in the MRA region are particularly prominent in the fashion industry , with the Amsterdam-based  the Fabricant and Renoon serving as the examples of digital fashion platforms being backed-up by major investors.
IH Amsterdam, as the coordinator of the Regional Hub of Netherlands, has also offered similar findings through its broad research and experience within the fashion and textiles ecosystem in the Netherlands. Their extensive track record of fashion and textiles related projects includes:  Fashion Business Model Challenge,  Fashion Frontier Challenge by Tommy Hilfiger, Fashion Accelerator for Better Business (FABB), and Soft-landing Program on Fashion.
Furthermore, IH Amsterdam is part of the 2-year Circular Innovation Ecosystem program done in collaboration with Metabolic and Bankers Without Borders which facilitates the ongoing efforts to close the circle in the fashion and textile value chain with radical innovation, high on the R-ladder and with strategic partners committed to the circular economy
What's next?
As previously mentioned, SoTecIn Factory aims to support its community of diverse stakeholders from European industry, NGOs, academia and public sector in formulating at least 7 key value chain-based missions (at least one mission per each region and its selected value chain).
But what are these Missions exactly?
They are essentially broad but bounded aspirational objective(s) that capture the general circular challenge(s) in the domain of selected value chain(s), which the industry strives to solve with the use of social innovation-based tech solutions.
Once formulated, the missions will serve as the basis of the Open Call for Challenge Owners designed to help industry leaders in identifying and providing specific ,mission-based sustainability challenges relevant for their organisation which social entrepreneurs will strive to solve via two SoTecIn Factory Open Calls for social innovators in 2023 and 2024.
How can I join the action?
So, what could this mission be in the context of textiles in the region of North-West? Together with Metabolic, IH Amsterdam has done extensive research in the textile sector in MRA and identified 4 key innovation gaps:
Challenge Area #1: Affordability and accessibility of circular services
Challenge Area #2: Retaining product performance and physical durability in the transition to less complex, biobased and biodegradable materials
Challenge Area # 3: Citizens feel informed and empowered by understanding the environmental and social impact of their clothing
Challenge Area #4: Designing in the identity of regenerative practices and diversity of craft
The final answer, however comes within the industry itself while SoTecIn Factory helps in bringing it to the surface by supporting its Community divided into 7 regional fractions (Regional Communities) , led by local Impact Hubs, in voicing circular needs and goals of its members per respective regional value chain.
To help you learn more about SoTecIn Factory, as well as on how to join the Regional Community of North-West, the Regional Hub will organise a workshop on 23 November 2022. Click on the button down below to register.