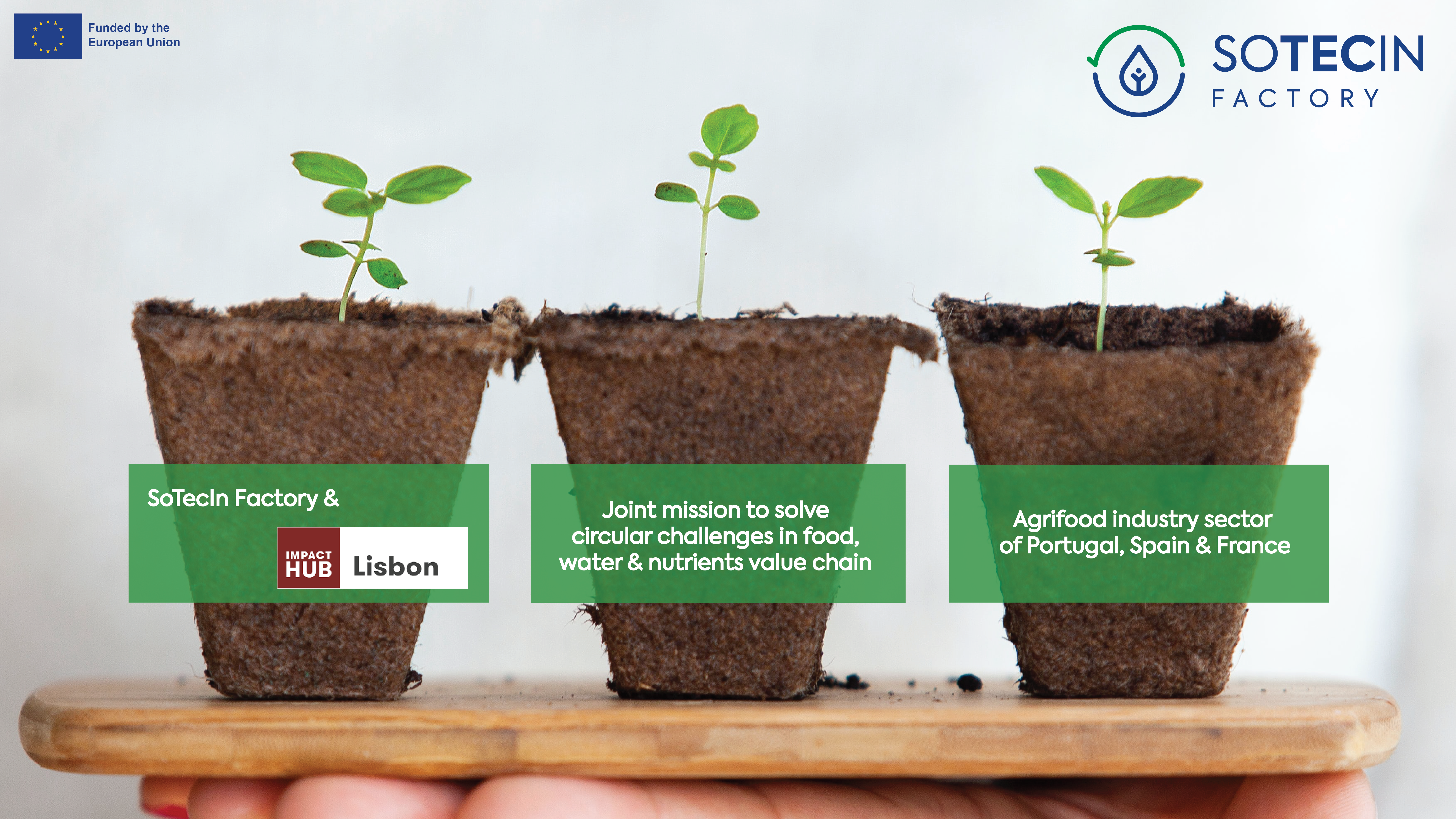 Regional Hub of South-West selects food, water and nutrients key value chain for their circular industry mission
Led by Impact Hub Lisbon, the SoTecIn Factory Regional Hub for the South-West (Portugal,including Spain, Southern France) has selected the food, water and nutrients key value chain as the basis of future SoTecIn Factory circularity missions to enable it's radical and systemic change through technological and social innovations.
The regional assessment was conducted through evaluation surveys which were sent to 25 representatives of a diversified set of organisation types within the region (Government, University and RTDs; SMEs and Large Companies, NGOs and citizens).
The survey consisted in evaluating and ranking seven value chains from lowest to highest potential of disruption through Circular Economy approaches, namely: Electronics & ICT, Batteries and Vehicles, Packaging, Plastics, Textiles, Constructions & Buildings, Food, Water & Nutrients.
The results of the survey highlighted the high potential of the value chain of Food, Water & Nutrients in addressing higher "Rs" of Circular Economy. However, this value chain also presents a high level of challenge in changing "business-as-usual" practices. Nevertheless, the Regional Hub aims to leverage on the "coalition of the willing" who are keen to transforming this value chain through technological innovation and the collaboration between entrepreneurs, research institutes and large companies, so that the first can access the technologies and facilities owned by the latter, in which innovation can be tested and flourish – and true value can be shared between all.
IH Lisbon, as the coordinator of the Regional Hub of South-West, will provide a crucial support for the regional SoTecIn Factory missions based on their wide connection with SMEs in the food ecosystem gained through their incubation and acceleration programs. Furthermore, Impact Hub Lisbon was part of the production of a documentary series called É Pr'amanhã, which mapped over 50 food-related initiatives all over Portugal. The series was aired on the national TV channels and many more contacts followed. The documentary also opened doors to stakeholders in the Government sectors as well as universities.
What's next?
As previously mentioned, SoTecIn Factory aims to support its community of diverse stakeholders from European industry, NGOs, academia and public sector in formulating at least 7 key value chain-based missions (at least one mission per each region and its selected value chain).
But what are these Missions exactly?
They are essentially broad but bounded aspirational objective(s) that capture the general circular challenge(s) in the domain of selected value chain(s), which the industry strives to solve with the use of social innovation-based tech solutions.
Once formulated, the missions will serve as the basis of the Open Call for Challenge Owners designed to help industry leaders in identifying and providing specific ,mission-based sustainability challenges relevant for their organisation which social entrepreneurs will strive to solve via two SoTecIn Factory Open Calls for social innovators in 2023 and 2024.
How can I join the action?
So, what could this mission be in the context of food, water and nutrients in the region of the South-West?
Despite all regional efforts, the agri-food sector is still in urgent need of transformation to reduce inputs, enhance the resilience of food systems, regenerate ecosystems, and to valorize residual streams.
The issues of water scarcity and desertification are also critical and very much on debate in Portugal: Moderate risk to land desertification is observed in 60% of the Portugal territory, according to a research conducted by the Institute for Water (Portugal). Regions such as the Alentejo and the North of the country are the ones affected more heavily by desertification and solid erosion processes.. The answer, however, does not seem to be more irrigation necessarily. Instead, rethinking agricultural practices and strategies can allow and encourage more nature-based solutions, such as water retention through an agroforestry system.
The final answer, however comes within the industry itself while SoTecIn Factory helps in bringing it to the surface by supporting its Community divided into 7 regional fractions (Regional Communities) , led by local Impact Hubs, in voicing circular needs and goals of its members per respective regional value chain.
In fact, Regional Hub of South-West has already conducted several successful workshops to kickstart this conversation and is now actively looking for more participants to contribute by writing to [email protected]